Formex - Polypropylenfoil
Flame retardant polypropylene insulation type FORMEX
Formex™ polypropylene film has a unique combination of electrical properties and is chemically and pyhsically robust.
Formex ™ foils
are self-extinguishing according to UL 94 V0


have a CTI value of 0 (>600V, insulation group I)

have very good dielectric strength

have good HAI and HWI values

can be used up to 115°C (RTI)

are UL listed (E121855)

absorb almost no moisture

have high mechanical stability

can be die-cut and formed easily

are used as a physical barrier (up to 2.0 mm material thickness)

are very resistant to chemicals
Formex™ PP films meet RoHS, REACH and WEEE requirements and can also be used as EMI/EMC shielding together with metal films.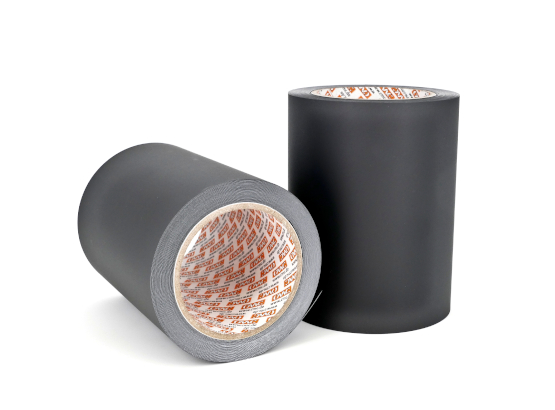 CMC Klebetechnik offers the polypropylene film Formex™ from 0.127 mm thickness, with a self-adhesive finish if required.
The CMC 278xx product series - Flame Retardant Polypropylene Insulation Film FORMEX™ GK is particularly well suited for applications in which
flame-resistance classification in accordance with UL94-V0 is required

excellent voltage and tracking resistance is desired (cti > 600V)

a maximum thermal stability of 115 °C is adequate

the material is to be used for 3D punched parts (folded, bent)

good dimensional stability and very low water absorption is advantageous
Formex™ GK is particularly suitable for applications in information and communication technology equipment, power supplies, medical devices, etc. The material meets the requirements of, for example, DIN EN 60950, DIN EN 62368 and UL 60950 standards regarding the minimum thickness of insulation in devices (e.g. switch-mode power supplies) at line voltage with a single-layer insulation layer (0.4 mm between active electrical parts and ground).
In addition, the polypropylene film Formex is excellently suited for the production of fire protection envelopes or fire barriers, which are otherwise usually made of e.g. sheet metal or injection molded parts (e.g. switching power supplies, frequency converters).
Formex™ is used in particular in high-voltage technology (e-mobility) because, in addition to flame retardancy, the CTI value is also very good. For insulation foils of insulation material group I, the required creepage distances according to IEC 60664 insulation coordination are only half those of many high-performance materials (e.g. PEEK, PI, PPS, etc.). Formex™ is therefore the ideal material in high-voltage battery boxes, for insulating busbars (bus bars) and as casing linings for high-voltage control units with metal casing.
The products are listed by UL under the number E121855.
They comply with the European Regulation RoHS and no banned halogen flame retardant is used.
Here you can find the data sheet in PDF format.
In order to maintain the excellent flame retardancy of Formex™ throughout, even in adhesive applications, finishing with a flame retardant transfer adhesive is possible:
Nitto transfer adhesive D 9500
Die-cut-parts for RM coil bodies
RM (rectangular module core) coils are characterised by very good transmission behaviour with good magnetic shielding. In the case of assembly on printed boards, it may be necessary to insulate the ferrite core from the conductor tracks that run underneath the core. Self-adhesive die-cut-parts made of CMC 27xxx Formex® are particularly suitable for this purpose.
This product series comprises material thicknesses of 0.127 mm to 1.57 mm. The polypropylene material used is UL-listed, has a very good CTI value of 0 and is classified as non-flammable in V0 under UL94. The continuous operating temperature is 115 °C and the material is RoHS-compatible.

The die-cut-parts are available adapted to the RM 12 and RM 14 design or, if required, punched in other sizes or shapes (from 1000 units).
Because of their self-adhesiveness, the die-cut-parts are easy to mount.