A company and its products are only as strong as the people behind them. We stand behind them with conviction and, when required, with extraordinary ideas. As producers, developers, problem solvers and service providers, we are guided by this maxim. The most important objective for us is to find efficient solutions for the widest possible range of industrial requirements. We are therefore committed to product development – by working with our customers to find the best possible solution.
Based on our coating equipment and decades of experience, we offer interested customers extensive possibilities to realize customer-specific solutions. It does not matter whether you want to provide a new film with a standard coating or have a new coating compound applied to a provided film.
Consulting and development

You will receive - if necessary - support in the formulation of the coating compound by our laboratory (our possibilities are not limited to an "adhesive" application) . We will also be happy to assist you with the selection of raw materials (carrier materials) if required. Any necessary "auxiliary materials" such as silicone paper, masking films or laminate partners are available in great variety. The minimum coating quantity should not be less than 1000m². The total capacity is several million square meters per year. Of course, the contract-coated goods can also be cut or formatted afterwards


Project schedule for customer-specific coating / contract finishing
New developments are always an attempt to find new, more economical solutions by trying something different. Interested parties can expect comprehensive support from us to enable them to quickly take advantage of such new developments. We at CMC Klebetechnik have divided this process into individual sections to make this customer-specific development run as smoothly as possible. Any misguided developments can thus be avoided. Furthermore, the costs remain transparent for all concerned.
Preliminary discussion, specification
A new development (or contract finishing, contract coating) always begins with a technical/commercial dialogue. First of all, it must be considered what is at stake, whether our technical possibilities are suitable for the required end product and whether the pricing structure to be expected corresponds to the customer's expectations.
1. Lab development, Prototypes
Whether you already have a complete recipe, whether you provide us with the coating mass or whether we develop together a completely new combination of carrier and coating, we will choose the suitable coating method to meet your specific requirements!
The fact that CMC Klebetechnik has its own development department is a crucial competitive advantage. Our chemical engineers are experienced developers for solvent and dispersion coatings. They can adjust the coating formulation in the lab to meet your requirements as precisely as possible. The lab is equipped with a large number of different measuring devices for this purpose. For example, a climatic chamber with UV lamps enables simulation of outdoor loads, combustion chambers test flammability and SAFT testers determine the shear resistance of the adhesive under temperature load.
Laboratory samples are produced once the recipe has been determined. Different options are available to apply layers of between a few micrometres and approx. two millimetres. For example, these samples can be used to check the even distribution of the coating mass or to measure the anchoring of the coating on the base film. In this way essential experience can be gained with the carrier (film, fabric etc.) and coating mass. Different variants can be tested at this stage of development with little effort, to then sample the best finish for you. These material samples can be very quickly modified by altering the recipe. If the determined parameters are right, the next stage of development is the laboratory coating system.
2. Lab coating on our pilot coater
As soon as the recipe has been determined, tests can be run on the pilot coater. This coating system allows coatings that are very close to the conditions in the serial production plants. Tests with different settings can thus be performed quickly. The future parameters for the main coating systems are also already determined in this step. Small changes in the recipe are still possible easily and cost-effectively, which permits fine adjustment of the recipe for later series production. This makes it possible to also produce small pilot samples, which enable you as a customer to perform initial tests. For these initial tests, not much material is required. Samples can already be produced on the laboratory coater with 10 m of material. Costs: 400.00 EUR per hour commenced plus material costs. These costs can be settled at a later stage during series production. You will receive the goods in the desired form.
Preliminary tests on the laboratory coater minimise the much more costly changes following the scale-up onto the production system. Formulation and prototyping as well as lab coating can be performed very quickly if required. This enables customers to outsource subdivisions of their development to CMC Klebetechnik.
3. Trial coating on the production system
If the trials on the laboratory coating system are successful, pre-series production tests can be performed on the main coating systems. First of all, it is checked whether the parameters from the preliminary tests can be directly applied. During trial coating, all relevant parameters are recorded, which are then also used as basis for the final pricing (e.g. coating speed). You are warmly invited to come along to these trials.
Costs: 950.00 EUR per hour commenced plus material and packing costs if applicable.
In both systems, the material to be coated is pre-treated with the Corona technology. This improves the wetting and anchoring of the coating mass on the carrier. Automated web tension control keeps the transport forces at a constant level over a wide range. In this way, carrier materials with a thickness of between a few micrometres and a few millimetres can be coated. A laminating station on both coating systems enables lamination of the coated material inline with another film or fabric or a siliconised cover.
The quality of the produced goods is monitored by computer during production. Standardised or customised tests are performed and documented in the laboratory on each jumbo roll produced.
Following three trial coatings with unchanged parameters, series production is usually then commenced.
Laboratory coating systems
Technical specifications for laboratory system

3-zone hot air dryer up to 155 °C

Dryer length 5 m, speed between 0.5 and 5 m/min

Maximum web width 300 mm, usable width usually about 260 - 270 mm

Laminating station for lamination

Option to feed in a liner (PE film, silicone paper, etc.)

Standard lengths for sample production runs 10 to 50 running metres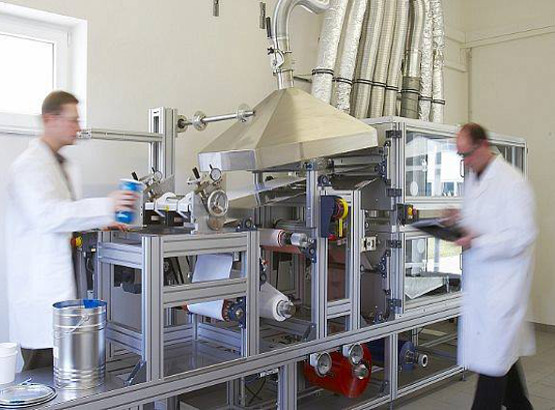 Measurement options in the development laboratory
Effective development work is also associated with good laboratory equipment. Along with a modern, generously equipped laboratory, we have a wide range of devices for carrying out measurements and tests. Here is a brief selection:
Pilot coating system for manufacturing near-production samples with max. width 270 mm and max. length 100 m
Climate cabinet made by Weiss, humidity up to 100% rel., temperature -70 to +180 °C
Several heating ovens up to 350 °C for e.g. fast ageing tests
Vertical combustion chamber for flammability tests based on UL94-V and IEC 60454
Horizontal combustion chamber for flammability tests based on UL94-H and IEC 60454
Measuring instrument to determine electrical resistance (electrical conductivity)
High voltage test device for determining dielectric strength up to 15 kV AC
Various viscometers to determine the viscosity of adhesive solutions
Several sets of precision scales
Measuring instrument to determine residual solvent content
Thickness sensor: Scale division +-1 µm
Outside micrometer: Scale division +-1 µm
Zwick portal tensile load measuring device; upper limit of load cell 500 N, +/- 0.5% of the measurement, to determine the adhesion force, shear resistance and ductility
PH electrode: PH 0 to 14 for measurement of the alkaline or acidic properties of solutions
Precision spirit level with scale magnifier (divisions of 0.01 mm), to measure film shrinkage, for example
Microscope with digital camera attachment for surface investigations
Equipment to determine shear resistance even at high temperature (SAFT test)
Kofler block to determine the melting temperature of adhesives and polymers
Film coatings - from experiment to market
How often does it happen that you have a good idea, but not the opportunity to try it out or implement it. This is also the experience of manufacturers who are developing a coated product and do not yet know how big the chances are on the market for it. It's nice when you can simply start a trial with relatively little effort.
Meanwhile, the list of sample coatings, customized coatings and contract coatings carried out at CMC Klebetechnik is very long.
In particular, the opportunity to carry out initial trials on a special pilot coater (laboratory coating system), initially on a scale close to production but nevertheless much smaller, is readily accepted.
This ranges from weather-resistant film coatings as reflective surfaces to nanostructured conductive coatings used as electrical heaters, from fabric impregnations for composite materials to adhesive coatings for medical fiber materials, from insulations for high-temperature superconductors to decorative films for furniture surfaces, from applications in the fuel cell stack to carbon-fiber-reinforced adhesive tapes as replacements for steel cables.
The advantage of the laboratory coater is the short set-up time, the very fast and direct intervention option in the test arrangement, and the possibility of also producing 100m web length once. Especially customers who process web materials themselves and whose machines are five, ten meters long often need sample material that has a certain minimum length.
Two or three hours of sample coating on the pilot coater are usually sufficient to obtain initial representative samples for a product presentation.
CMC Klebetechnik also offers options on the main coating lines to produce even small quantities on a trial basis. Foil, fabrics, nonwovens or papers can be produced cost-effectively from just a few 100m². For this purpose, the line is rented to the customer on an hourly basis. Of course, the concentrated production and application knowledge of CMC Klebetechnik is available to the customer.
Variants of such contract coating are the provision of the carrier film, the coating compound or all components. Such initial trials naturally also serve to determine the optimum process parameters in addition to a saleable product. This is because even if the product is to be coated at a later date by a different coater, decisive parameters can already be analyzed at this early stage of product development (e.g. coating speed).
CMC Klebetechnik is thus not only a manufacturer of technical adhesive tapes, but also a development partner for customer-specific solutions with its own development department.