CMC Klebetechnik has been coating films using the roll-to-roll process for over 50 years. We have always listened carefully to what our customers actually need. Today, we use this knowledge and experience to be your competent partner when it comes to contract coating.
On two modern coating systems, we apply functionalizations to films and fabrics up to 1,900 mm wide at speeds of 4 m/min to 50 m/min. The coating systems are supplemented by a number of cutting and die-cutting systems. The minimum possible speeds are used for high-quality coatings and high application quantities. For less problematic products and low application quantities, on the other hand, coating can be carried out at higher speeds. This high degree of flexibility enables CMC to handle small and large projects economically. It also reduces set-up time and run-in losses.
However, film coating is not only carried out for our own products, but coated films are also produced on a contract basis (contract manufacturing). The customer can provide either the film, the coating compound or both. The system technology, including the operating personnel, can also be hired by the hour for coating trials.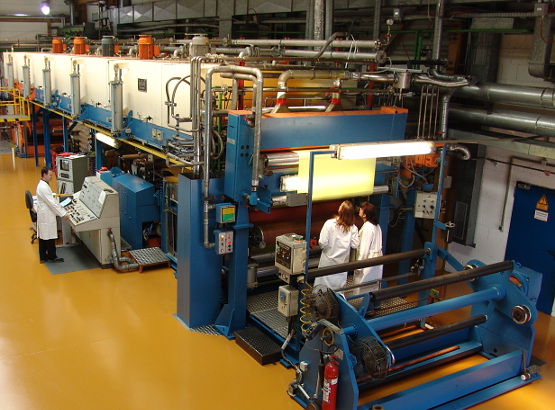 This usually results in a three-stage Development process for contract coating (contract finishing): In the (1) development phase , the first A4 samples are transferred to our (2) laboratory coater as required. Here, the subsequent coating parameters can be determined or product optimizations can be carried out. If successful, the first (3) sample productions are then manufactured on the large coating systems. After a test phase of three similar coatings, series delivery usually begins.

with
Acrylic adhesives

Pure acrylic adhesives

Polysiloxane adhesives

Silicone adhesives

Rubber adhesives

Heat seal adhesives

PU adhesives

Polyester resin adhesives
If required, other coating compounds such as latex, thermally conductive silicones, multi-component systems, acrylate coatings and much more.
From the very first idea, CMC Klebetechnik supports its customers with its manufacturing expertise, flexible system technology and comprehensive materials know-how. Individual adhesive coatings require a great deal of specific knowledge in order to create a successful new product. An experienced team of application consultants, developers and production staff support the customer's development department on the way to an optimal solution.
In order to support customers as efficiently as possible in their product development, the application specialists at CMC Klebetechnik listen carefully and translate customer requirements into the language of the film manufacturers, adhesive suppliers and coating operators at the coating systems. Early involvement in the development process reduces the number of failed attempts on both sides.
The development process at CMC Klebetechnik can be divided into four steps:
Property profile
The framework conditions that should apply to the coating solution are defined in joint discussions. For example, whether a removable adhesive bond is required, a special functionalization or a coating with thermal conductivity.
Material selection
With the experience gained from numerous contract developments, CMC Klebetechnik develops a project plan together with the customer and defines the appropriate coating technology. CMC Klebetechnik also supports the customer in the selection of suitable products or the modification of existing solutions. The end product can often only be manufactured by adapting films and coating compounds to the production technology.
Optimization
Our service does not end after the development of a coating solution . Even after the start of series production , we continue to look for potential savings in a continuous optimization process. The results of this process are presented to the customer so that they can decide for themselves which changes they would like to see implemented.
CMC Klebetechnik's service also includes supporting customers with production planning as far as possible. This primarily concerns the provision of products in the optimum form. Accurately cut adhesive rolls, precisely die-cut shaped parts or laminates that are ready for processing help to achieve smooth production. In addition, cycle times can almost always be significantly reduced in this way, and with them the unit costs.
However, perfect delivery times, coordinated warehousing, safety stocks and the timely procurement of raw materials are also part of the service and optimize cooperation over time.
Long-term partnership
CMC Klebetechnik, Frankenthal, has been coating films with adhesives and other coatings for over 50 years. Many companies have been customers for decades and trust in the flexibility and stability of the company. This trust has to be earned - which is why a perfect supply chain with reliable traceability is also a matter of course for customer-specific coatings. Because only long-term partnerships can create a trustworthy, value-adding collaboration.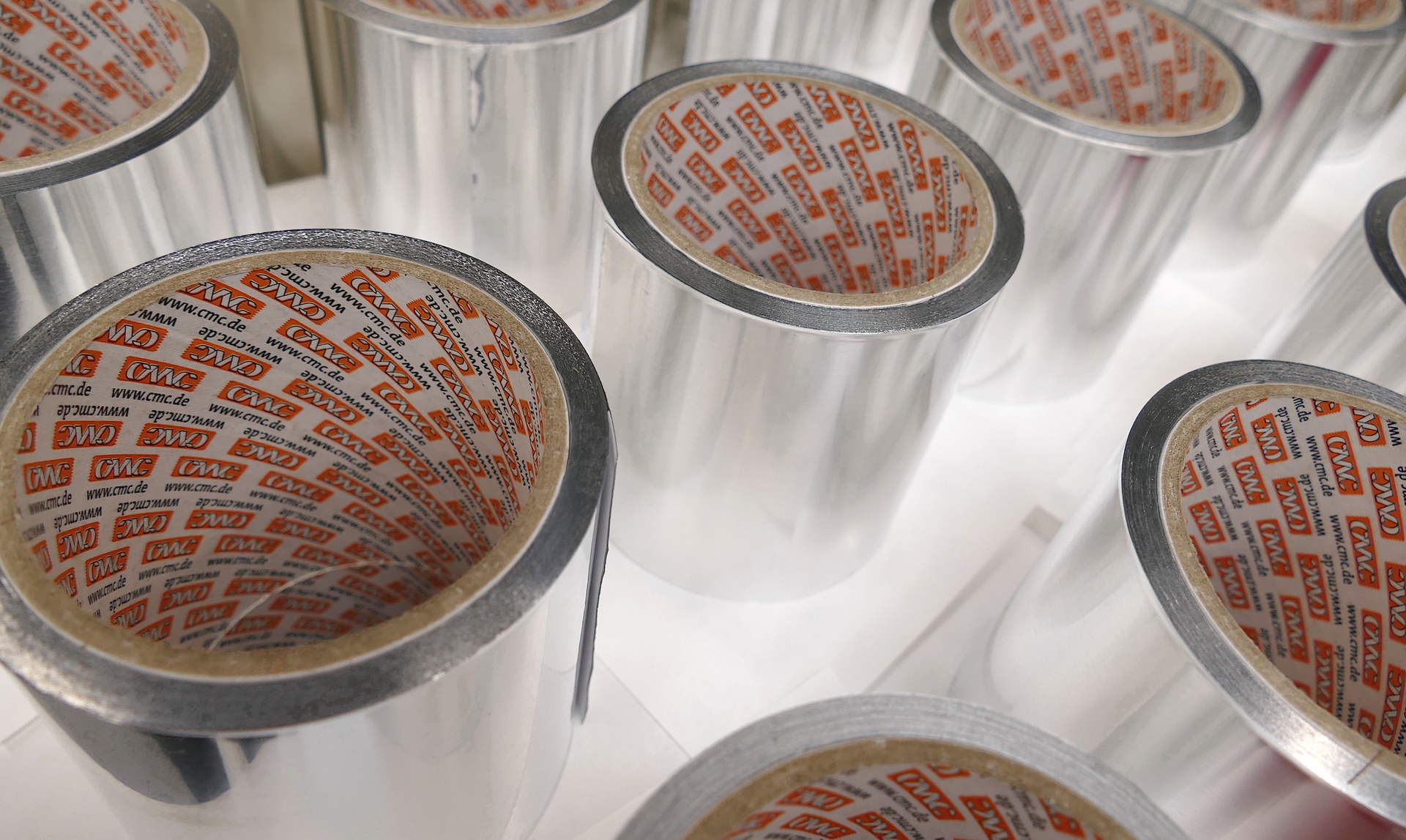 Customized solutions
CMC Klebetechnik is an efficient, competent development partner for the design and implementation of customer-specific coating solutions on films, fabrics and nonwovens. We understand your requirements and translate them professionally into products and processes.

For you, this means professional film coating from a single source. Although there is a very large number of different combinations of film, fabric or paper with (adhesive) coatings on the market, an individual contract coating of films can make a significant contribution to making a product marketable or to being able to manufacture it at all. Optimally adapting a coated film to the further processing technology you use leads to a reduction in costs and thus to a decisive competitive advantage for your company.
Coating of films, whether as contract coating of films or as customized film coating, offers excellent solutions.
Competent advice
We can help you develop coating formulations, select suitable products (films, adhesives, etc.) and the coating process. We have our own development laboratory, an experienced workforce, good relationships with international suppliers and two modern, flexible coating systems up to 1,900 mm wide. Solvent and dispersion coatings can be applied.
Further process steps such as laminating and laminating as well as Cutting and die-cutting complete our range of services.
The possibility of using solvent and dispersion adhesives and the flexible, low-setup-cost coating systems provide more extensive options than a specialized coater.
Here you will find our General conditions for contract coating.
Note on rough calculation: There are several factors in the coating process that contribute to the fact that not 100% of the materials used end up in the finished coated product. These are, for example, run-in losses, a technically induced coating-free edge (which is more significant with narrow initial widths), residual coating material in the containers, dividing losses when cutting in narrow widths, etc.
Without being able to apply this as a general rule, losses of approx. 5-15% should be included in the cost calculation.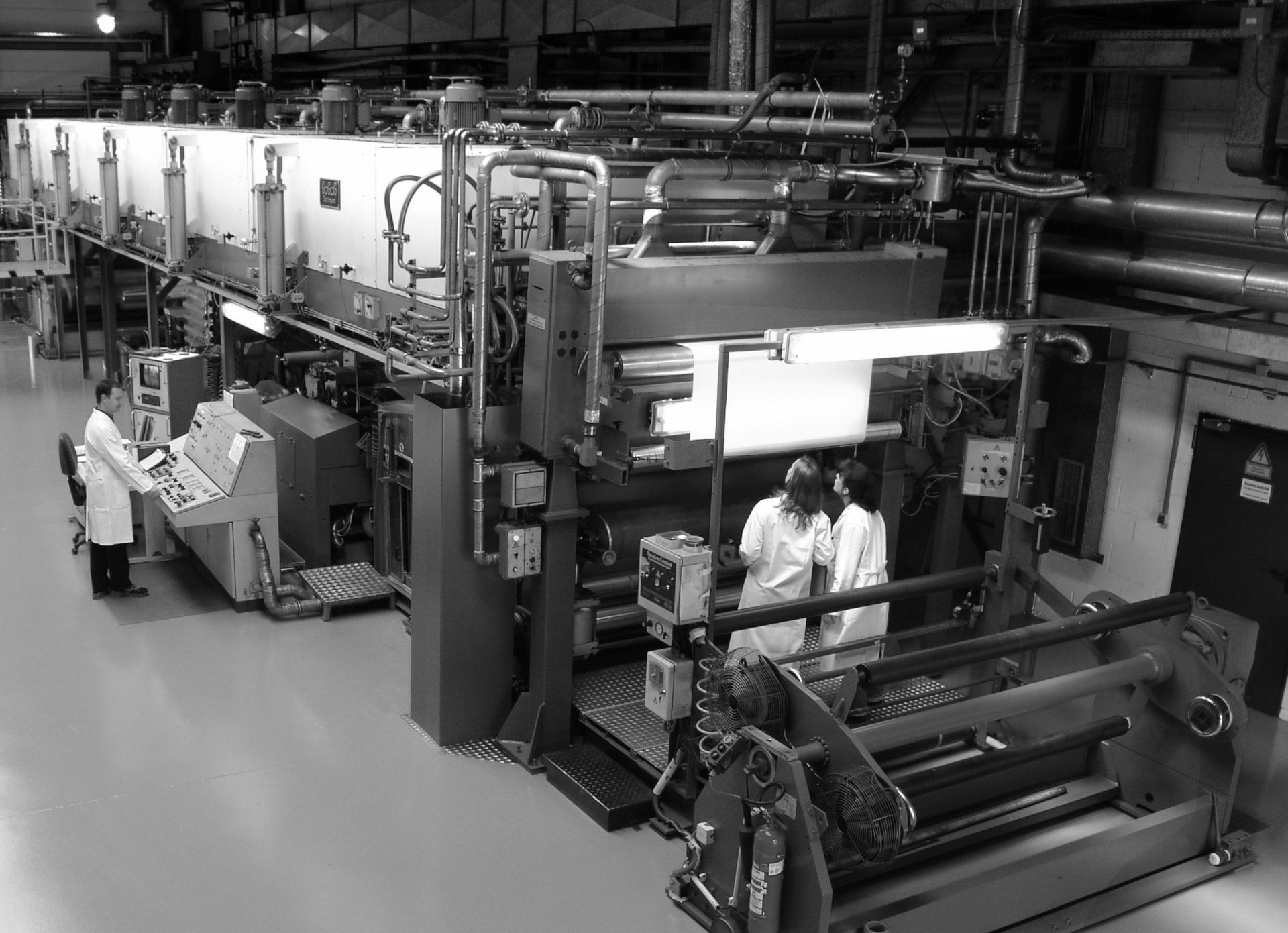 customers relocate production
They do not have the necessary development capacities
Bottlenecks occur in the company's own production
You do not have the required facilities
You would prefer to concentrate on your core competencies

Even other coaters take advantage of the opportunities because there is often no competition (other customers, other markets, other technology).

With our various coating systems and decades of experience, we offer interested customers a wide range of options for implementing customized solutions. It does not matter whether you want to apply a standard coating to a new film or have a new coating compound applied to a film provided by you. You will receive support in formulating the coating compound from our development department (our options are not limited to an "adhesive" application).
Before manufacturing on the production lines, the first development steps can be carried out on a pilot coating line in order to obtain optimized conditions for the first test coating.
services
Several flexible coating systems
Wide range of standard products
Our own development department
Sound specialist advice and project support
Customized development and production
Quality production in Germany
Individuality of support, flexibility
Customer-oriented work (for the benefit of the customer)
Flexible in the design of the product presentation (length, width, PU?)
Consistency of price and performance
Reliable quality
Partner for large-scale industry and SMEs (open to all batch sizes)
Cooperation with well-known suppliers from the international chemical industry
Experience in material and application
Specialist advice (also on site, no pure catalog sales)
IMDS, RoHS, UL, IEC, ISO 9001, ISO 14001
Two coating systems are available for water-based and solvent-based coatings. Coating weights of between approx. 6 gr/m² and 2000 gr/m² can be applied - and this on widths of up to 1,900 mm. There is usually a three-stage development process for coating applications (contract finishing): In the development phase, initial A4 samples are transferred to our laboratory coater as required. Here, the subsequent coating parameters can be determined or product optimizations can be carried out. If successful, the first sample productions are then manufactured on the large coating systems. Our experienced employees will accompany you - from the first consultation to series production. Be there when your own product is created: you are cordially invited to visit us.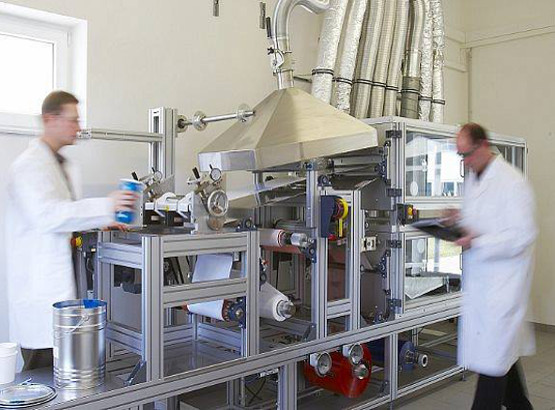 Pilot coater (laboratory channel)
Coatings on the pilot coater offer the possibility of producing larger sample quantities close to production. The parameters can be changed more quickly on the pilot coater, allowing different settings to be tested. This significantly reduces the risk of faulty development at relatively low cost.
The maximum dimensions for provided materials are a width of 300 mm and an outer roll diameter of approx. 250 mm
The system is operated by well-trained laboratory staff and the test is fully monitored and the results documented internally so that repeat tests can be carried out reproducibly.
The costs incurred for this shall be borne by the client in accordance with the offer. This also applies in the event of failure.
Main coating plant
Depending on the system, solvent and water-based systems can be processed. The maximum width is 1.50 m and 1.90 m.
The parameters actually required for series coating are determined on the main coating systems. Only with this data is a final calculation of the coating price possible.
The first trial coating(s) on the main systems may require an increased proportion of waste until the correct parameters are found. In very rare cases, demolition may be necessary. The costs incurred must still be invoiced.
Key figures for the coating systems:
Application thickness: depending on the coating system approx. 8 µm - 60 µm, for 100% systems up to 2,000 µm

Application type: roller squeegee, comma squeegee, striped coatings also possible

Width: depending on the system, min. approx. 500 mm to max. 1900 mm

Film thickness: depending on the material from approx. 6 µm to approx. 1 mm

Type of coating compound: Solvent-based, dispersion, 100% system, 2K system

Type of drying: Hot air under atmosphere or under nitrogen (inert)

Maximum temperature: up to 155°C (also for cross-linking)

Surface activation: Corona pre-treatment
Further possibilities: Cutting into several rolls, laminating, covering with siliconized films/papers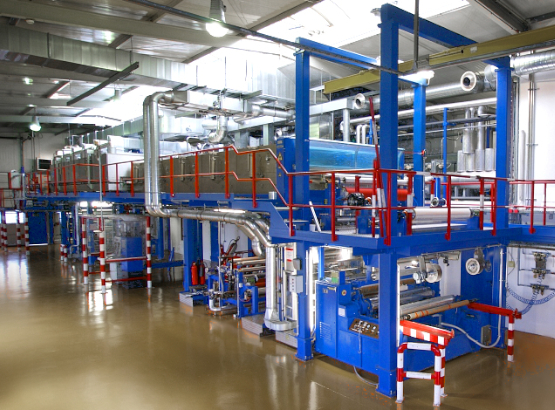 The main cost-determining parameters of a coating are:
Width of the fabric to be coated

Quantity (small quantity, large setup effort)

Speed at which application can be carried out (application quantity, solvent)

Number of coating passes (double-sided = 2 coating passes)

Type of carrier and coating compound, if not provided
We take our responsibility for the environment seriously: all our solvents are either recovered (extraction by deep-freezing) or decomposed by thermal oxidation (RNV). Our systems are technically designed to be able to work in a wide mass application range and to cope with a large variety of carrier materials and solvent systems. Our systematic approach to development and production ensures professional, flexible and target-oriented work - for your benefit.
Which product has the best chance of being used in a given application?
There are two answers to this question: in many cases, price is the deciding factor. But often the technical arguments for or against its use are also decisive.
In most projects, a customized product is the best solution as it offers the customer maximum functionality. The slightly higher price is then often irrelevant.
Films, fabrics or papers are all web-shaped products that can be finished by CMC Klebetechnik GmbH. Be it non-slip surfaces, strong adhesive coatings, stress-resistant insulation, temperature-resistant carrier materials, electromagnetic shielding, the list of examples could be extended endlessly.
Common to all applications is the high degree of customization of the finished web material to the requirements of the application.
In most cases, the quantities required for such specialized solutions are relatively small and cannot be produced by mass manufacturers. This is because their systems are specialized in producing large quantities of the same product group as cost-effectively as possible. Even the start-up of such large-scale plants consumes a huge amount of raw material, without which a square meter of usable product would already have been produced.
The system technology of CMC Klebetechnik is extremely flexible. Coating speeds between 0.5 m/min and 50 m/min enable high-precision or cost-effective coatings. Integrated corona systems improve the wettability of the films and the adhesion of the coatings. Continuous in-line monitoring and quality checks on every roll produced in the in-house laboratory guarantee a consistent level of quality.
Thanks to the flexible system technology, smaller orders from 500 square meters can be produced just as easily as large-scale production with several hundred thousand square meters per year.
You can choose between dispersion and solvent coatings. The application technology itself is also flexible, so that an extremely wide thickness range from approx. 10µm to approx. 1000µm can be coated.
An experienced team of specialists supports the customer in finding the right combination of substrate and coating. Excellent connections to many manufacturers of web materials and coating compounds help the development team to select the right one for the application from a large number of raw materials.
Alternatively, it is also possible to have existing solutions coated on the systems on a contract basis. The coating expertise accumulated over several decades is then available to the customer as a service (contract coating), and in most cases the customer can even be present when their product is produced on the system.
CMC Klebetechnik offers a one-stop solution:
Help with the Development The first step is the selection and procurement of materials, trial production on a laboratory channel and finally series production. The product can then be cut, formatted or punched.
Full-surface adhesive application is not always advantageous. If thin films are fed with such adhesive tapes, squeeze-out adhesive can bond the layers together. Or die-cut parts made from such adhesive films are difficult to remove from the carrier because there is no easy-to-grip tab.
CMC Klebetechnik offers strip-coated films for this and other applications. These adhesive films receive a strip-shaped adhesive application at any desired intervals and widths.
Technically speaking, a mask is inserted in the coating unit, which applies the initially liquid adhesive only to the desired areas of the film. This mask can be individually designed according to customer requirements.
Examples of the customized options can be seen here in the drawing (right).
Of course, individual rolls with strip coating can also be offered. These can be used, for example, to produce die-cutted parts with an adhesive-free grip tab (finger lift). Nonwovens can also be coated in this way and thus retain their breathability and permeability.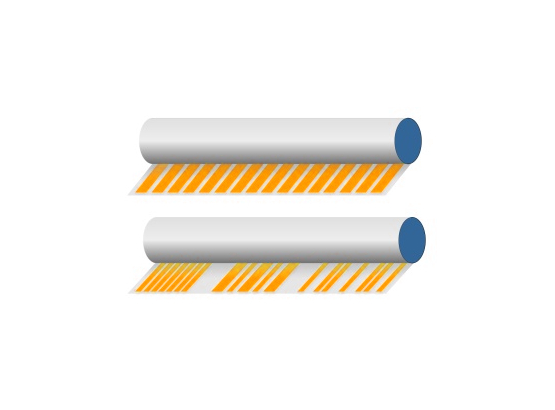 Coatings are often applied to Polyester film or Teonex®- and Kapton® film desired. However, films provided by the customer can also be individually coated in strips.
Full-surface up to 1,800 mm wide

Various adhesive types and application thicknesses possible

Can be used with solvent and dispersion adhesives

Individual strip pattern possible, as mask can be created very flexibly

Very narrow and very wide strips possible

Single rolls with adhesive-free edges on one or both sides (e.g. for finger lift)

"Braces coatings" also possible (two adhesive strips on the outside, no adhesive application in the middle)

Rolls do not stick together when stored on top of each other (shelf life)

Can be used as splicing tapes without the risk of bleeding
Standard product in various widths and film thicknesses:
CMC 10262 Polyester film with strip coating (solvent acrylate adhesive)