>> Here you can find a link to the UL page with the possibility to enter the e-file number directly: UL Prospector
File-Number der CMC Produkte bei UL: OANZ2, E93622
(This site comprises a comprehensive database from Underwriter Laboratories containing the UL-recognised insulation materials. Link to the original extract from the UL database for products from CMC Klebetechnik: E93622)
Yellow Card zu Filenumber E93622- CMC Klebetechnik GmbH

Acetatesilk cloth tape, Cat. No. CMC 35160 rated 120 C

Composite PET film insulating tape, Cat. No. CMC 65838, rated 155 C

Glass cloth insulating tape, Cat. No. CMC 84170, rated 155 C

Glass cloth insulating tape, Cat. No. CMC 84160, rated 130 C

Glass cloth tapes, Cat.Nos. CMC 84170*, Cat.No. CMC 84150* rated 180 C

Kapton tapes, Cat.Nos. CMC 70110*, CMC 70100, CMC 70105* rated 180C

Laminate copper/Kapton tapes, Cat.Nos. CMC 38381, CMC 38390, CMC 38391, CMC 38393, CMC 38394 rated 180 C

Laminate copper/Nomex tapes, Cat.Nos. CMC 38281, CMC 38290, CMC 38291, CMC 38293, CMC 38294 rated 155 C

Laminate copper/polyester tapes, Cat.Nos. CMC 38181*, CMC 38190*, CMC 38191*, CMC 38193*, CMC 38194* rated 130 C

Laminate crepe paper/ polyester tape, Cat. No. CMC 18100, CMC 18102 rated at 130 C

Laminate Kapton/copper/Kapton tape, Cat. No. CMC 38382 rated 180 C

Laminate Nomex/copper/Nomex tapes, Cat. No. CMC 38282 rated 155 C
*Complies with flame retardant requirements, when so marked.

Laminate nomex/glass cloth tape, Cat. No. CMC 19708, rated 155 C

Laminate PEN-Film/glass cloth tape, Cat. No. CMC 61200, rated 155C

Laminate polyester/copper/polyester tape, Cat.No.CMC 38182 rated 130C

Nomex-polyamid tapes, Cat. Nos. CMC 65101, CMC 65102, CMC 65103* rated 155 C; Cat. Nos. CMC 65120, CMC 65121, CMC 65122*, CMC 65123* rated 180 C

Nomex tapes, Cat. No. CMC 65772* rated 130 C; Cat. No. CMC 65100* rated 155 C

PEN-Film tape, Cat. No. CMC 61100, rated 155 C

Polyester tapes, Cat. Nos. CMC 10300, CMC 10160, CMC 10145, CMC 10260, CMC 10858, CMC 10966 rated 130 C

Polyester/fleece tapes, Cat. Nos. CMC 16100*, CMC 16700, CMC 16701 rated 130 C

Polyimide insulating tape , Cat. No. CMC 70110, rated 180 C

Shrinkable polyester tapes, CMC 11766 rated 130 C
Marking: Company name and catalog designation printed on the carton, wrapper or core.
Ul-File numbers of the foils

| | | |
| --- | --- | --- |
| Manufacturer | Trade name | Ul-File |
| Du Pont | Mylar® A | E93687 |
| Mitsubishi | Hostaphan® RN | E53895 |
| Covestro | Makrofol® DE | E168120 |
| Toyobo | Teonex® | E51743 |
| Sabic | Ultem® | E103380 |
| Saint Gobain | Norton FEP | E311412 |
| Du Pont | Nomex® 410, 411, E 56A | E34739 |
| Du Pont | Kapton® | E39505 |
| Victrex | Aptiv™ | E161131 |
| Toray | Torelina® | E86423 |
Insulation systems for transformers and e-motor manufacturers
Insulation systems have significant savings potential for producers of components when customers or countries that require UL certification are being supplied. By using only UL-listed components (coil carriers, impregnating resin, enamelled wire, adhesive insulation tape) for a transformer, for example, the certification test can be simplified and, in particular, it can be shortened significantly.
Insulation systems bring together insulation materials that have been inspected and tested, by means of the sealed tube test for example.
Several adhesive insulation tapes from CMC Klebetechnik are approved for use in the following insulation systems (class B/F) made by DuPont
Class 130 Crastin® PBT, Mylar®, Nomex®, Herberts® Electro C190HE

Class 155 Crastin® PBT, Mylar®, Nomex®, Herberts® Electro C290HE

Class 130 Rynite® PET, Mylar®, Nomex®, Herberts® Electro R150HE

Class 155 Rynite® PET, Mylar®, Nomex®, Herberts® Electro R201HE

Class 155 Rynite® PET, Mylar®, Nomex®, Herberts® Electro R203HE

Class 155 Zytel®, Crastin® PBT, Mylar®, Nomex®, Herberts® Electro CZ255HE

Class 130 Zytel®, Mylar®, Nomex®, Herberts® Electro Z130HE

Class 130 Zytel®, Mylar®, Nomex®, Herberts® Electro Z150HE

Class 155 Zytel®, Mylar®, Nomex®, Herberts® Electro Z200HE
Another interesting website for researching insulation materials can be found at. http://www.ul.com/database
This site comprises a comprehensive database from Underwriter Laboratories containing the UL-listed insulation materials.
The EIS-listed tapes include the types:

CMC 10966, 10820, 65120, 65100, 70100, 70110, 80725, 16100, 84170, 84160, 84150, 65768, 16701, 18102, 16700, 17713, 65767 (materials used: polyester, Nomex, polyester fleece, Kapton, crepe paper, glass fabric)..
There is a large number of other insulation systems that use adhesive tapes from CMC Klebetechnik but which have been submitted to UL by individual customers and are not available for general use.
Comparison of standards UL510 / UL746 / UL94 regarding flammability
UL distinguishes between (homogeneous) plastics, whose property requirements are described in the UL 746 series of standards, and UL 510, which is a dedicated standard for electrical insulating adhesive tapes.
The tests and test methods differ, in some cases considerably.
The UL 94 test standard is a standard used to test the flammability of plastics that are a structural component of equipment and enclosures. It is NOT intended for adhesive tapes. Specimen thickness is usually 0.4 mm to 3 mm.
Samples are flame tested vertically (vertical) and horizontally (horizontal).
For thin films, the test is modified and results are reported as follows: UL94 - VTM0 (TM stands for Thin Material).
For UL 510, on the other hand, the adhesive tape is wound three times on top of each other on a metal rod with a 50% overlap and then subjected to flame treatment. In this test, polyester adhesive tapes (PET: UL94 - VTM2) also achieve the classification "flame retardant".

The UL 510 test method is therefore in no way comparable with the flame test in UL 94, which is why there are no adhesive tapes with a UL 94 classification on a regular basis!
UL 510 and IEC 60454
Both UL 510 and IEC 60454 standards are applicable to adhesive tapes (also formerly DIN 40633, VDE 0340).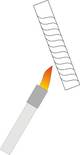 Principle of the test regarding flammability:
Three layers of adhesive tape are wound overlapping on a steel rod. A defined flame is then applied to the test specimen five times for 15s with a 15s pause in between. Passed if (abbreviated): No continued burning beyond 60s and no dripping of burning or smoldering material on any of the five flames.
Test result if passed: flame retardant
The UL-Standard UL-94-VTM
Applicable to plastics in sheet or film form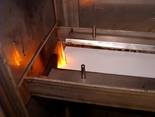 A test sample (12.7 mm) suspended in a vertical position is brought into the test area and a flame is applied with a Bunsen burner. In the case of thin materials (= TM, films), the test sample is clamped in a frame that is designed to prevent the sample from rolling up when the flame is applied. Normally this test is intended for materials over 2 mm in thickness and not for adhesive tape.
A group of films with low flammability and very good self-extinguishing properties is product group CMC 27xxx (polypropylene films with UL 94 - V0 classification). Nomex and Kapton adhesive tapes also have similarly effective properties.
Results:

V-0 Flame extinguishes within 10 seconds

V-1 Flame extinguishes within 30 seconds and no burning material drips down

V-2 Flame extinguishes within 30 seconds but it may drip

DIN 40633: Flammability classes

Bu1 - Bu3 Bu1 and Bu2 as above

Bu3: burns for longer than 30 seconds, but extinguishes within 60 seconds
Corresponds to UL 94 V test, but the test sample is placed horizontally into the test flame. This test is less demanding in terms of the self-extinguishing properties of the material.

Typical requirements for electrical products in external applications according to UL 746C (e.g. solar inverters):
UL 94 VTM0, 5kV disruptive discharge voltage, CTI=2, HAI=3, HWI=4
UL 94 VTM2, 5kV disruptive discharge voltage, CTI=2, HAI=2, HWI=2
| | | | | | | | | | |
| --- | --- | --- | --- | --- | --- | --- | --- | --- | --- |
| UL 746C | Soll | Kapton FN * | Kapton XP919* | Formex GK | Kapton HN | Kapton MT | Aptiv 1000* | Nomex 410 | Mylar A |
| CTI ** | 2 (>3) | 1 | 1 | 0 | 4 | 4 | 3 | 3 | 1 |
| HAI | 3 (>4) | 4 | 0 | 0 | 4 | 1 | 4 | 3 | 4 |
| HWI | 4 (>5) | 0 | 0 | 4 | 0 | 0 | 5 | 0 | 5 |
| UL 94 | 0 (>1) | 0 | 0 | 0 | 0 | 0 | 1 | 0 | 2 |
| Thermal-class | | H, 240°C | H, 240°C | 115°C | H, 240°C | H, 240°C | H | H | B |
| Applicability | | No | yes | yes | No | No | No | No | No |
* no standard, no stock
** Depending on the pollution class, CTI = 1 for CTI = 4, CTI = 3 for pollution class 3

Further information, including about the film properties, can be found via the "Link zu UL" (enter the file number in the search window on the UL site) or directly from the manufacturer via our list of links (under "General Information"). The adhesives used are usually designed for a continuous temperature of at least 130 °C. Many of our UL-recognised adhesive tapes are tested to UL 510 and are often flame-retardant. With many films (e.g. Kapton(r)) there are variants that are designed for special requirements, such as corona resistance, heat dissipation or tracking resistance. Almost all of the adhesives are characterised by very good resistance to impregnating agents. In view of the wide variety of impregnating agents, however, it is not possible to make a general statement. Further information on working with adhesive tapes and the adhesives used.
Note on "flammability": UL94 is the standard/norm for insulation materials. The additional H means "horizontal", and V means "vertical" positioning of the test object during the flame test. "VTM" indicates that a thin insulation material (classically a film) was tested in vertical position. The standard/norm for adhesive tapes is UL 510. The test set-up differs in that the adhesive tape is stuck to "something" (a steel bar) as it would be in subsequent application and a flame is then applied (similar to IEC 60454-2).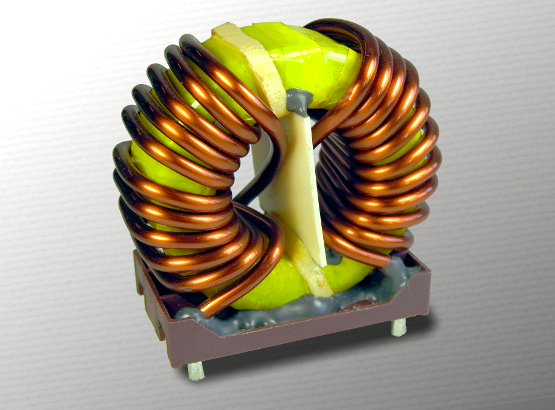 Basic information about the UL 1446 standard
Electrical products are expected to meet a mature technical standard as well as a high level of reliability and operational safety. The proof of compliance with such safety requirements is provided by certifications.
Problems with UL 746C?
Polymeric materials - Evaluations of these materials when used in electrical equipment describes the properties, requirements and test methods for evaluating insulating materials in electrical and electronic equipment. The correct interpretation of this standard is reserved for the professionals in the companies, because it is a very comprehensive work.
Among other things, UL 746C tests or specifies the properties of insulating materials, such as flammability, softening temperature, behavior under UV exposure, CTI, HWI, HAI and properties in humid environments.
Three general categories of equipment are classified by UL 746C:
Pure use indoors

Mixed use indoors and outdoors with moderate soiling

Mixed use indoors and outdoors with heavy weathering/soiling
Recently, more and more transformers for solar inverters used in free field applications have been subjected to the specifications of UL 746C. In this context, combinations of properties are required for materials of flammability class UL 94VTM0 or UL94 VTM2, which cannot be met with normal polyester or polyimide adhesive tapes.
Kapton® fails to meet the required Comperative Tracking Index value of 1 despite excellent other property values, while polyester (e.g. Mylar®) does not achieve the required values for HAI and HWI.
Finding a solution is not easy and means either changing the geometry (spacing) or turning one's back on common insulating materials.
All fluoropolymers have excellent properties with respect to the requirements of UL 746C (e.g. CMC 75730 FEP). However, most of these products are not tested to the required property values in UL 746C.

A clever solution is Kapton 200XP919. For this special variant of the well-known Kapton HN, a 12.5µm thick layer of PFA is applied to both sides of the 25µm thick Kapton film. In this way, the very good value of CTI=1 is achieved, thus fulfilling the requirements of UL 746C for outdoor equipment.
Alternatively, CMC offers the CMC 27xxx product line. This special polypropylene material has a temperature index of RTI=115°C and also meets the conditions for outdoor applications with heavy contamination.
In addition, this material is suitable for "packaging" the live parts with hazard potential in equipment with non-qualified enclosure materials (e.g. the enclosure does not meet the flammability rating for the corresponding equipment) in a UL 94 V0 sub-enclosure, which then also leads to compliance with UL 746C requirements.
Note: UL 746A describes test methods, UL 746B describes the determination of the Relative Temperature Index RTI (long-term behavior) and UL 746C describes the requirements for insulating materials in electrical equipment.